Jane Hanson, one of our Charter members, passed away peacefully at home on Sunday, July 15. Because she cared so much for Tech Trek, the family would like to suggest that donations be made to the program in her name to honor her contributions to our branch. 
Please use this form to submit your donation : In Memory Jane Hanson   
The Memorial Service for Jane Hanson will be held on Saturday October 13. Timing is TBD – most likely in the afternoon. Location will be in Santa Clarita, CA. More info to come soon.  Read Jane's obituary here:  JANE TERPENING HANSON
ACTIVITIES OVERVIEW:
SCV AAUW members begin the year in September with a Membership Brunch, followed by Program meetings in October, November, January and February. December's activities include a Holiday Gathering, the March project is a fundraising event for the AAUW/College of the Canyons MESA scholarship, and the April ventures highlight the Women In History presentation and the Tech Trek awards. In May, the branch celebrates the Installation of new officers and in August, AAUW celebrates the return of the Tech Trek campers with an End of the Year Party.
---
---
May 2018: We celebrated the founding of the Santa Clarita Valley AAUW  branch in 1968 with a special event on May 19, 2018.  Our 50th Anniversary with special guest Donna Mertens, AAUW State president, commemorated 50 years of accomplishments in service to the community.
See many more photos on our Gallery page.
Virginia Prager-Elford was a retired teacher and proud member of the American Association for University Women. On occasion our branch is able to fund-raise enough money to qualify for what is known as an AAUW Named Gift Honoree.  Earlier this year, the board voted to nominate, posthumously, Virginia Prager-Elford for her dynamic personality and many contributions to our branch. The award was presented to Virginia's family, Marty and Lynn Prager, at our 50th anniversary celebration.  Read the presentation speech here: Virginia Prager-Elford Named Gift Honoree 2018
See SCV Magazine story about our anniversary here:
http://www.santaclaritamagazine.com/2018/03th/e-santa-clarita-branch-of-aauw-turns-50/
Our new Board Members for the 2018-2019 year were sworn in and honored: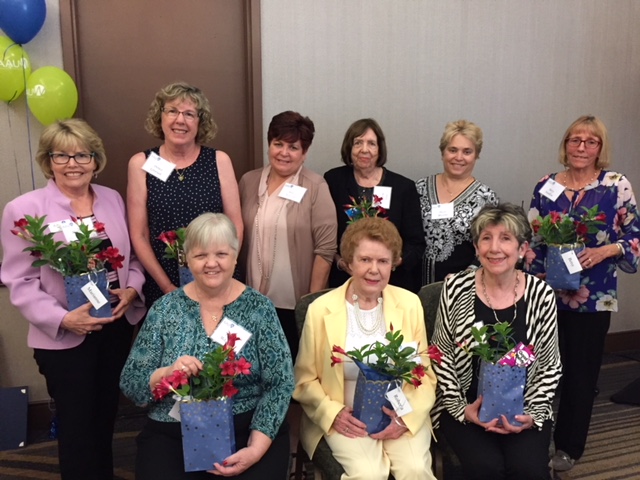 ---
---
April 2018 : Our chapter celebrated twenty-three middle school girls who were awarded a free science camp experience at four different California universities this summer as part of our mission to promote STEM for girls.  See our Tech Trek Page for more.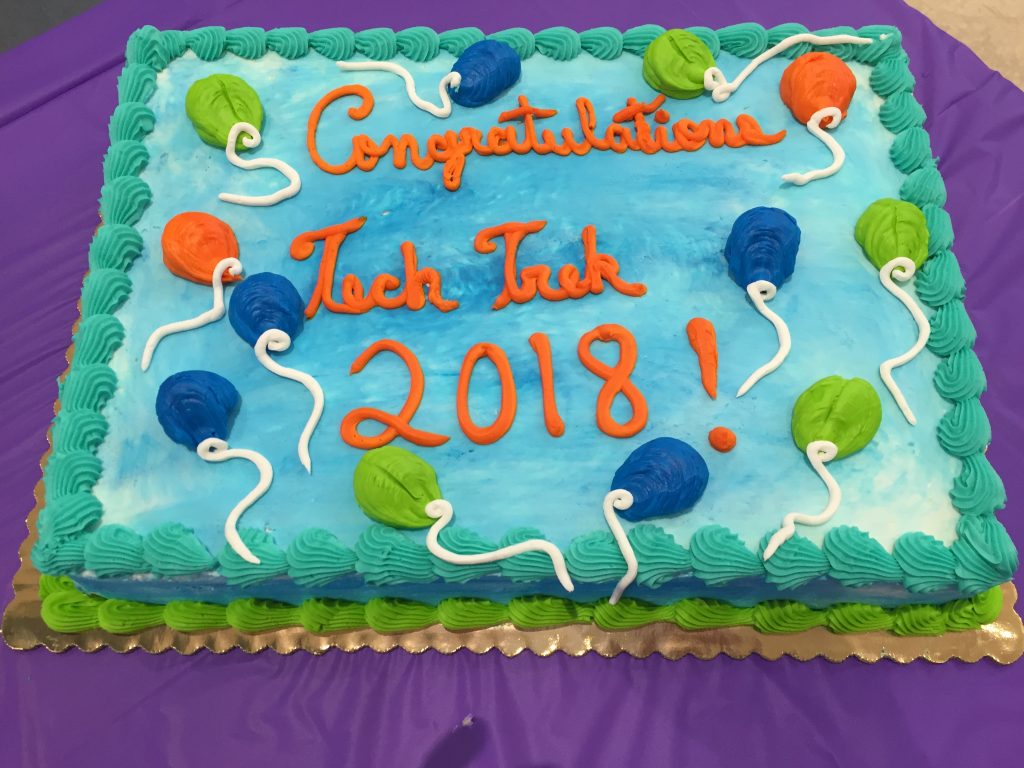 ---
APRIL PROGRAM AND ELECTION OF OFFICERS FOR 2018-19.  Women in History: 
---
Robin did us proud on March 24 at the Zonta Club of Santa Clarita event to honor outstanding volunteers in our community.  While she didn't win the final award, she gave a delightful speech on behalf of herself and AAUW. "Our members carry the torch for our foremothers, and I am extremely proud to work with them as we pave the way to equity and opportunity for women and girls."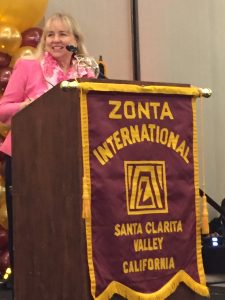 ---
---
Our chapter was featured as the non-profit of the week in the Signal Gazette newspaper in January 2018.  See article:  AAUW-SCV Non-Profit of the Week – Jan 2018
---
The Book Lovers Luncheon to benefit Tech Trek was an entertaining success in February 2018 at the TPC Valencia Oaks Grill. See our Gallery page for more photos.
---
FUNDRAISER SUCCESS!  Thank you to the Winery and the public for a memorable event.
---
Stem Stars from the summer 2017 Tech Trek campers attended a tour of NASA's JPL  in Dec 2017.
---
More holiday party photos in the Gallery
Robin Clough is our AAUW-SCV nominee for the 2018 Zonta Women-in-Service award.  The event is Saturday, March 24 2018. Details at www.scvzonta.org.
---
November 2017 program – Better Water Usage
October 2017 program – The Opioid Epidemic
---
Fall Membership Brunch – Sep 2017
Annual Tech Trek Homecoming event inspires young girls to enter STEM field  Our story in the SCV Signal
See Gallery for more photos.
May 5, 2017, at the AAUW CA state convention
it was announced that our branch
won a Recognition Award for the annual
Book Lovers Luncheon to benefit the Tech Trek program
May AAUW-SCV meeting for installation of officers – May 13 at TPC
 2017 – Tech Trek
At our ceremony in May 2017 there were 21 girls given an award for a summer camp experience at the
2017 Tech Trek Science Camps.
See our Gallery page for more photos.
The Annual Women in History program 2017
Six former First Ladies shared their stories on Saugus High School's (SHS) campus Tuesday as part of the 10th annual Women in History Program.
The annual American Association of University Women (AAUW) program travels to schools throughout the Santa Clarita Valley from March to June to share personal dramatizations of five to six influential women in history.
2017 Women in History Begins
The 30th edition of the AAUW-SCV's Women in History Program started on March 6th. 
We are excited to bring six very different First Ladies to the schools, and at the Annual Meeting on April 18th at Barnes & Noble, with the program beginning at 7 p.m.
Come learn about Martha Washington, Abigail Fillmore, Eleanor Roosevelt, Jacqueline Kennedy, Nancy Reagan and Michelle Obama.  Contact is Debbie McIntosh, co-chair.
Olive Bruins, 50 year member of AAUW,  was honored at the annual Zonta Club awards ceremony for "Women in Service", April 2017.
Be All You Can Be Program: Be a Bee Advocate – March 18 at the TPC
Book Lovers Luncheon – Feb 2017.  Go to Gallery for more photos
Click for More photos and events on our Facebook page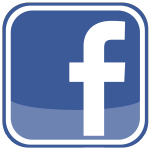 Coming Up:
See Calendar Page with tab on top for more details: Calendar