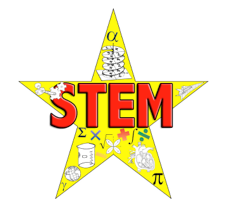 STEM STARS Field Trips 
Fall 2017: NASA's Jet Propulsion Lab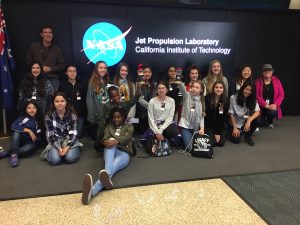 The Santa Clarita Valley AAUW STEM STARS program is an annual program that began in October 2010 to provide educational opportunities and field trip experiences to Tech Trek alumni and other girls in the 8th through 12th grades. These young women exhibit an interest in exploring education choices and career opportunities in the Science, Technology, Engineering, and Mathematics (STEM) fields.
The members of STEM Stars are contacted monthly about field trips. Attendance at past field trips has ranged from 10 to 20 girls.
AAUW members are welcome to participate in the program and join the committee. Both drivers and chaperones are needed for the field trips.
---
Photos from Past Events:
April 2018 – Advanced Bionics
Fifteen STEM Stars toured Advanced Bionics, the local manufacturer of cochlear implants.  Cochlear implants, simply put, can make deaf people hear.   What an inspiring trip!
Michael Vaughan, director of the talented engineering team that supports production, was very generous with his time.   We saw each step of the manufacturing process and the careful quality controls.
Then, Joan Oexmann, Product Development Audiologist, took us to the training room and explained her role and her career path.  With cochlear implants, users often need more than six months of adjustments until they can hear as expected and audiologists need special training.   Joan is the audiologist who develops these procedures and trains the Advanced Bionics Audiologist team to train audiologists around the world!
The girls were very interested and asked a lot of questions.   A big thanks to Rossana Blanco who organized the trip, and chaperones Jenewyn Van Wie, Sonja Wendt, Rossana, and our coordinator extraordinaire Diane Bartley.
---
December 2017 – NASA's Jet Propulsion Lab, Pasadena CA
The eighteen STEM Stars attending the December field trip already knew that JPL sent rovers to Mars. The field trip gave them the opportunity to learn more about the rovers, about missions to other planets in the solar system, and about Earth observing instruments.
They toured the historic Mission Control building and the Mars Yard where maneuvers for robotic vehicles on Mars are practiced. They also visited the laregest clean room west of the Mississippi where many of JPL's spacecraft are built.
---
April 2017 –  Boston Scientific Corporation
The Valencia facility builds products for the Neuromodulation Division. They develop, design and manufacture Implantable Pulse Generators (IPGs), used to stimulate the spinal cord to eliminate neuropathic pain in patients.
January 2017
SCV School Food Services Agency – The girls learned about nutrition basics and food safety.  They observed that nutrition specialists, dietitians and chefs, utilize chemistry and math daily in their jobs.  They also prepared a great lunch for everyone.